Welcome to American Quilt Works™
QUILT GALLERY AND STUDIO
5415 67th Street NE, Marysville, WA 98270
phone 360-658-1086
email: ckessel@msn.com
MISSION STATEMENT
American Quilt Works™ is a registered Washington State Woman-Owned business
that provides the best quality longarm machine quilting services at an affordable price
which makes our customers love and trust us to come back for more.

WE LOVE BEGINNING QUILTERS!
We are happy to help first-time quilters with any questions you have
Trust your quilt to an Award Winning Quilter with 40+ Years Of Experience. Your satisfaction is Guaranteed with Quality Workmanship at Affordable Prices.
WE MAINTAIN A HEALTHY STUDIO
We maintain a clean, healthy, and safe studio environment – No Dust, Smoke, Odors, Bugs, Pet Hair or Smell. Customer's quilts are kept in their own box clean and fresh which also protects them from loss. In addition, our studio has a Security System to protect your quilts. What does all this mean to you? Your quilts will be returned to you clean and odor free. We appreciate all the hours of work you put into making your creation so we want to ensure your quilt is protected while it is entrusted in our care.
√ SATISFACTION GUARANTEED
Catherine Kessel, business owner, has been an amazing Award Winning Quilter for 40 years and is a professionally trained 2001 graduate of Longarm University™. In 2003 Catherine was Awarded a Grant from the International Machine Quilter's Association and was a 2006 Finalist in APNQ "QuiltFest", Seattle, Washington.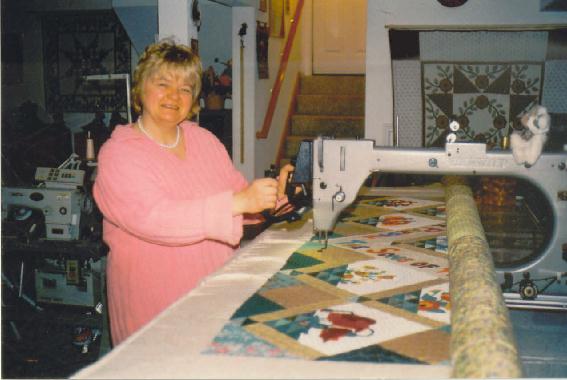 Catherine Kessel continually updates her skills with training and workshops
A Registered Washington State Woman-Owned Business
International Machine Quilter's Association 2003 Grant Award Winner
Graduate of Longarm University 2001
Founder Busy Bee Quilters in 1980 – Snohomish, Washington
Finalist 2006 APNQ Quiltfest – Seattle, WA
Check out our finished quilts and quilting products

for sale on the internet:

eBay Store American Quilt Works under the name quilting_queen

Etsy Store American Quilt Works

We will also make custom quilts to order.

Finished quilts make great gifts for babies, weddings, anniversaries, graduation and birthdays.

We specialize in making custom Family Memory or T Shirt Quilts.

Contact us for a price sheet.

Favorite Links

See our Facebook page for lots of photos of quilts for sale, awards & ribbons, customer quilts and testimonials, charity projects and studio shots

Here are some of our favorite Websites:

Special Promotions

| | |
| --- | --- |
| | Coupon Specials |
| | Gift Certificates |
| | Lay-Away Plans |
| | 10% Discount for Charity or Guild Opportunity Projects |

We operate a manual, hand-guided Gammill Classic industrial quilting machine. This provides for unique and custom quilting designs.

Look at our photo album filled with pictures of customer quilts and quilts designed from our Studio. Check out our Facebook page for lots more photos of customer quilts and testimonials.